On the 10th of April, Gotbit Hedge Fund announced the launch of a new accelerator program called Odyssey. The two-month initiative, which is designed to boost any project looking to build solutions for DeFi and Web3 infrastructure, will focus on delivering comprehensive business education individually for each participating startup.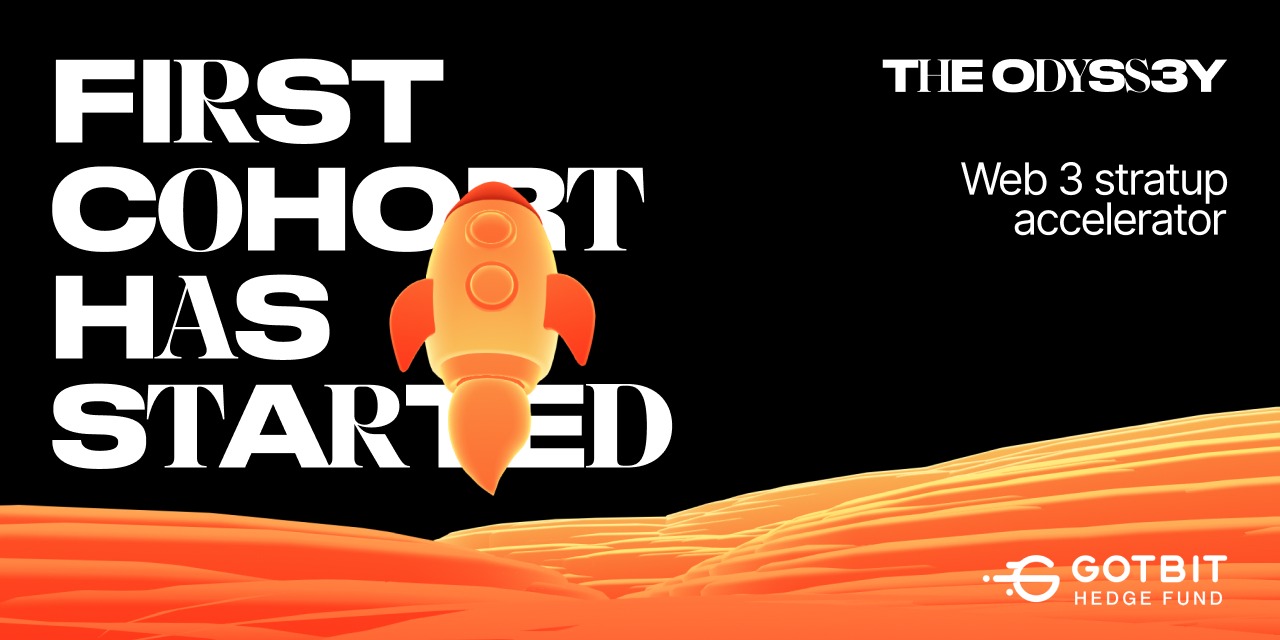 Odyssey is seeking to accelerate early-stage (seed or private) blockchain technology companies as well as private entities raising capital in their token or equity sales. In the first phase, the number of competitive projects surpassed 200 and only the cohort of 9 Web3's rising stars were accepted to the program: Arcana, DeFiHelper, Farm xyz, Firepot Finance, Interest Protocol, Kinetex Network, Movement, Stable Battle, and Trait Swap. The application process for the second batch of candidates is scheduled to open in about a month.
One of the Odyssey's eligibility criteria is for startups to show the MVP ready for investors. On top of that, the project should grow to over $7 million in market capitalization and have a complete team of fully qualified professionals – only the absence of marketing specialists is tolerated.
Gotbit CEO Alex Andryunin said: "Eligible entrepreneurs not only receive the funding they need. They also get Gotbit's wealth of expertise, extensive network of partner venture capitalists and investors, as well as personal assistance on every aspect of running a sustainable Web3 business including conceptualization, development, market making, legal, and marketing."
Andryunin added that upon completion of the Odyssey accelerator program, all projects would have their products ready to enter the global market with already raised venture capital funding. He mentioned that among the VC firms that have by now invested in their mentees were Algorand Foundation, Borderless Capital, Cogitent Ventures, Coinbase Ventures, Jump Crypto, and Polygon Ventures.
Besides, Gotbit regularly holds the event called Demo Days where the most talented entrepreneurs and developers pitch their ideas to representatives of the leading crypto investment funds. The next time Demo Days is set to take place is in two months.
Led by crypto veterans and early adopters – together with Andryunin, co-founder of Gotbit Mark Strelchik, ventures lead Peter Derlugov, and head of consulting Pavel (0xsmoky) are involved – Odyssey also provides participating projects with mentoring. Apart from the individual approach to consultancy ensured by the accelerator team of researchers, analysts, and personal managers, Web3 developer teams are offered a range of lectures by the industry's big names. Among them are top-level businessmen and executives from famous Web3-centric companies like Avalaunch, dYdX, GMX, Nomiks, and Powerpool.
About Odyssey
The Odyssey acceleration program was established by Gotbit Hedge Fund with the aim of empowering DeFi and Web3 infrastructure startups and private companies in early stage funding. The initiative entails individual consultancy and business education dedicated to running a sustainable company in the decentralized space. Competitive projects are provided with mentoring, funding and networking activities, as well as Gotbit's expertise and technical support.