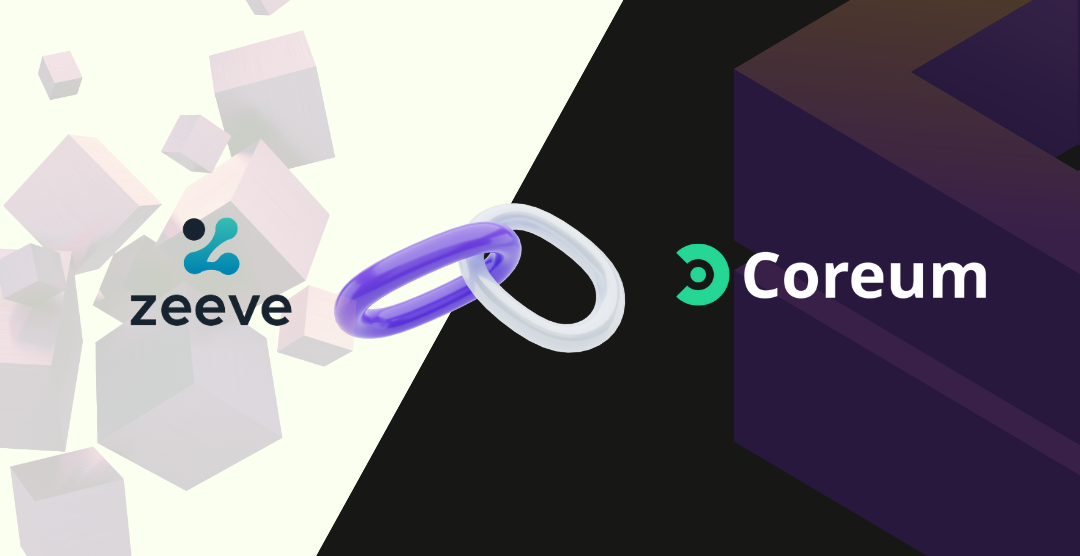 Zeeve, the leading platform for institutional staking and managed blockchain infrastructure, has announced support for Coreum mainnet validator nodes into its platform, enabling users to deploy validator nodes on Coreum with just a few clicks.
Coreum, a high-performance blockchain designed for enterprise use cases, recently launched its mainnet to the public on March 24, 2023, after months of rigorous testing and development. Since its devnet launch in 2021, Coreum has gained the attention of builders because of some of its best-in-class features like Smart tokens, WASM contracts, and IBC interoperability. The steady growth in token price since its launch also signals investors' confidence in this low-latency, proof-of-stake blockchain.
Zeeve's integration of Coreum staking nodes allows institutions and individual investors to easily participate in the network as validators for maximized yields, and also contribute to the security and decentralization of the blockchain.
"We're excited to support Coreum's mainnet launch by providing a no-code deployment process for validator nodes," said co-founder & CEO of Zeeve, Dr. Ravi Chamria. "Anyone with the required minimum stake can use our non-custodial platform for automated deployment of validator nodes with a few clicks while mitigating any performance-related risks. Zeeve offers institution-grade staking nodes with guaranteed uptime and security. By removing the technical barriers to entry, we hope to encourage more users to participate in the consensus of Coreum and contribute to its growth."
"Zeeve was one of the first Coreum ecosystem partners, and we could not be more thrilled to have the project officially going live with Coreum mainnet," said Bob Ras, co-creator of Coreum. "Accessibility and reliability are both fundamental for companies to adopt blockchain solutions, and Zeeve provides uninterrupted access to Coreum, making it as easy as possible to run a validator node and reap the benefits of the ecosystem while contributing to network security."
Apart from validator nodes, Zeeve also provides access to full nodes and elastic APIs for Coreum, creating a well-rounded offering for various participants in the blockchain ecosystem. As a prominent player in the Web3 infrastructure space, Zeeve has deployed over 4000 nodes across 40+ protocols, demonstrating their expertise and dedication to the industry.
Complementing their developer-focused services, Zeeve's staking infrastructure for institutions is backed by an experienced team of professionals, ensuring high-end performance and enterprise-standard risk mitigation, along with detailed monitoring and alerts for validator nodes.
"Coreum is a high-performance L1 designed for enterprise use cases, and Zeeve's plug-and-play infrastructure ensures businesses can maximize its potential," said co-founder & CTO of Zeeve, Ghan Vashishtha "Our platform offers a single point-of-control for detailed monitoring of node performance, staking info, and blockchain-level parameters for Coreum, with proactive alerts and notifications to ensure smooth network operations. We believe that our combination of no-code deployment, in-depth analytics, and a unified dashboard make Zeeve a standout option for businesses and developers looking to deploy and manage validator nodes on Coreum."
This new development will be advantageous for 23k+ Zeeve users and for individuals and businesses who plan to leverage Coreum's features for their blockchain needs.
About Zeeve:
Founded in 2021, Zeeve is an ISO 27001, SOC2 Type2, and GDPR-compliant leading Blockchain Infrastructure as a service platform that helps enterprises and blockchain startups build, deploy and manage reliable decentralized apps, blockchain nodes, and networks. Zeeve is a low code automation platform that is cloud agnostic and supports multiple blockchain protocols with advanced analytics and monitoring of nodes and networks. Its unique BYOC feature allows users to deploy nodes on their own clouds with support for popular cloud providers like AWS, GCP, Azure, Tencent, DigitalOcean, and Linode. Zeeve also features a powerful set of APIs to build dApps for a plethora of use cases across industries.
Contact Zeeve by emailing [email protected] or visiting www.zeeve.io to learn how Zeeve's web3 infrastructure automation platform can help you kickstart or accelerate your web3 journey.
Powered by Froala Editor