Czech-British fintech company, named NED New Era Development, is one of the first in the world to offer its own hybrid cryptocurrency exchange. GALILEI — as simple as a decentralised crypto exchange and as fast as a centralised exchange. This unique technological solution ushers in a new generation of crypto trading market. Along with addressing the shortcomings and limits of both types of crypto exchanges, it also offers simplicity, security and greater protection for buyers. Improving access to a wide range of cryptocurrencies to masses, Galilei is an integral part of the NED Ecosystem, crypto-fintech project.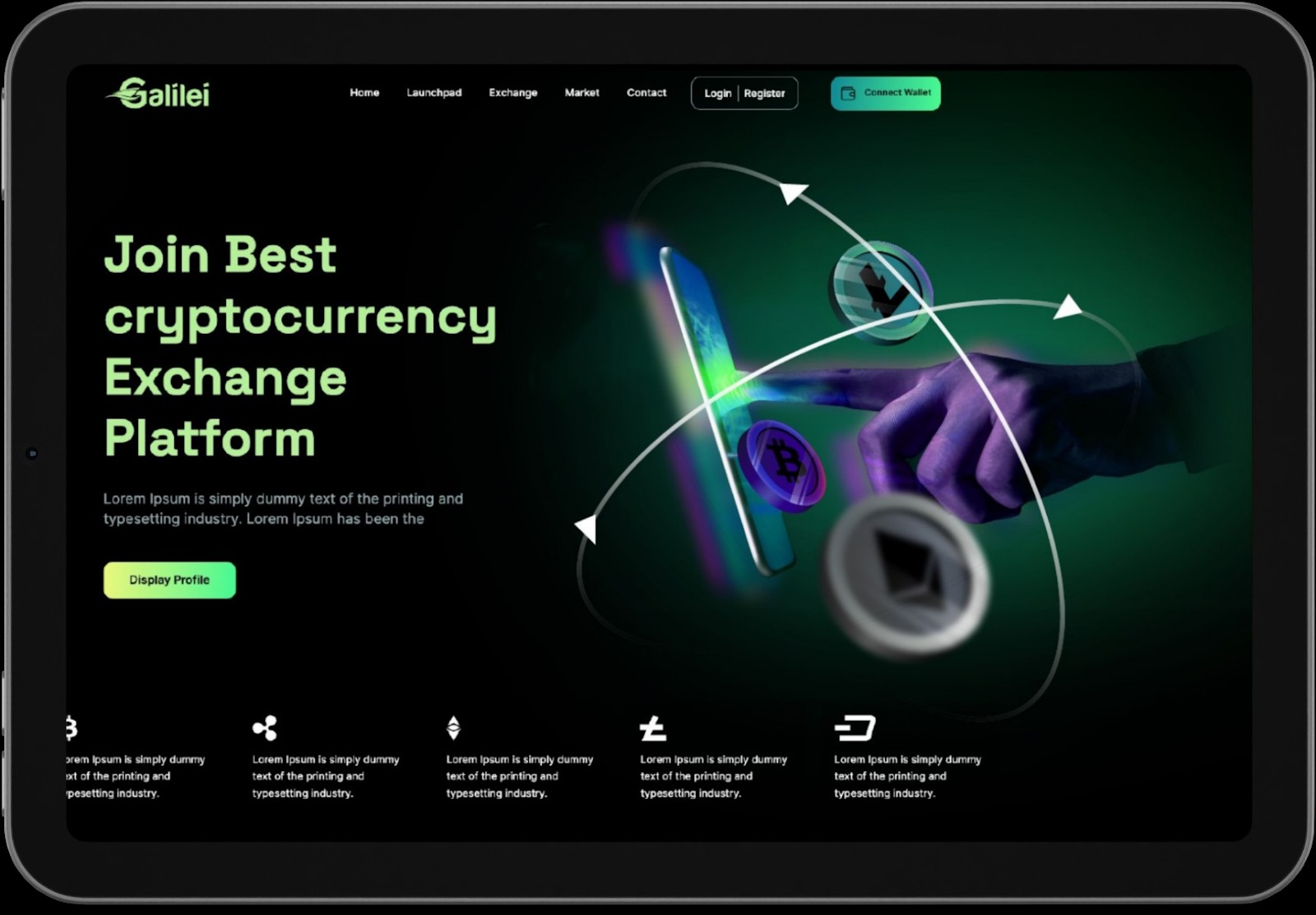 Image: Galilei. Source: https:nedproject.co
Cryptocurrency trading is constantly evolving
The rapid development and growing popularity of cryptocurrencies have led to the emergence of many crypto exchanges to facilitate purchases and sales. Over time, and based on their underlying infrastructure, these cryptocurrency platforms have been designated as either centralised or decentralised platforms.
Centralised crypto exchanges process transactions quickly, but expose traders to security risks by requiring them to relinquish custody of their funds. Decentralised crypto exchanges offer enhanced security by keeping traders in control of their funds, but repeatedly lag behind centralised exchanges and offer limited trading options www.nedproject.co
Cryptocurrency trading is constantly evolving in the face of unprecedented demand, yet users have faced a number of problems with existing exchange networks. High fees, security issues, poor customer service, fear of loss and many other problems are keeping the crypto market from reaching its true potentia
A new generation of cryptocurrency trading and features
The solution is Galilei. A hybrid crypto exchange that represents a new generation of features and possibilities, opening up the world of cryptocurrencies to the masses. Not only does it address the shortcomings and limitations of both types of crypto exchanges, but it also combines their positive qualities: the speed of centralisation with the safety of decentralisation, and the utility and liquidity of centralised platforms with the security of decentralised crypto exchanges. This hybrid crypto exchange lets you carry out frictionless, secure cryptocurrency trading with anyone in the world.
The entire concept is based on maintaining simplicity when introducing new cryptocurrencies and the executing of operations, while also offering greater protection for buyers. Moreover, as stated by NED's CEO:
"Galilei is introducing important mechanisms, which should not only guarantee security, but, above all, improve cryptocurrency exchange in real time."www.nedproject.co
Exchange & Routing
The second mechanism, Routing, is even more interesting. Thanks to Routing, the transaction is possible even if no exchange rate exists for the given cryptocurrency pair — an intermediary currency is sufficient. The system will take care of the entire conversion. Along with standard exchanges in Simple mode, it's also possible to exchange in Expert mode, where the user will be able to self-select more parameters.
Launchpad & New Projects
The platform will also include Launchpad – one place that lists the profiles of all new projects, allowing them to reach prospective buyers.
As in all other types of decentralised crypto exchanges, new projects on Galilei will have to provide both their primary coin/token liquidity. In comparison with many other (decentralised) exchanges, coin/token's issue will have possibility to set its initial price. Any project can also be listed on Launchpad before it is traded on Galilei.
"We want to make it easier, transparent and less costly to list new and start-up cryptocurrency projects," explained NED New Era Development's CTO.
Run your own crypto business
Have you ever dreamed of having your own crypto business? Starting to own a cryptocurrency exchange is a question of minutes with Galilei! No coding knowledge needed – just brand your exchange and start making money in minutes, thanks to the exchange fees you will set, depending on your free will.
Over The Counter sales
Are you a cryptocurrency owner and want to offer your VIP client, or a friend, a special price? Create custom OTC offer for any Galilei user with any coin or token you own and set any price you wish! We will take care of rest, so both sides of the deal gets what they aimed to.
NED Ecosystem
Galilei is an integral part of the NED Ecosystem, crypto-fintech project. An innovative combination of several platforms, it takes advantage of blockchain technology. Its pillar is the NED token, a so-called utility token, which will be the primary means of payment within these platforms.
NED token is already available to cryptocurrency and FinTech technology fans and they can conveniently service their accounts through the NED Ecosystem platform.
It's also worth mentioning that the link between platforms means that any user who already has an account in the NED Ecosystem is automatically a Galilei user – no registration is required. NED cryptocurrency owners can use Galilei for more favourable transaction fees, among other benefits.